Never had I laughed so much in my entire life – I mean it. From start to finish, the 2.5 hours of balderdash that was Dhoom:2 kept me in stitches and only the fact that I had taken a toss a few minutes previously and banged my shin, prevented me from rolling along the aisles. What a load of utter, absolute nonsense!

I know as a general rule you are to leave your brains at home when you watch a movie but never have been treated to such an insult to my intelligence on such a lavish scale. What was going through Sanjay Gadhvi's head when he cooked this gem up, I wonder? Something possibly along the lines, get some top Bollywood people, show more than a little flesh, throw some 'boom, boom' beats that sound okay when blasted through a cinema music system, shoot in some of the exotic locales of the world and never give a toss to inane things like story, plot structure… sense?

But then again, it looks like I am among the minority, considering the droves of people that were flocking to the theatre to see the movie. Or they could have been mugs like me, who read the reviews and said 'bah-humbug' to that and chucked £15 down the tube. And mugs like me were what the movie makers were counting on – never mind the critics who pan it, there are so many Indians around the world that even if half of them decide to check it out to see if it appealed to their better taste than that of the stupid reviewer's, then they are laughing – all the way to the bloody bank! Which is exactly what is happening, right now, world over!

After sitting through this nonsense, I can conclude that as far as I am concerned, Abishek B comes across as the cool guy. Much has been written about his wardrobe and the fact that his costume designer had decided to take leave of his / her senses but inspite of Hrithik's uber-cool build-up, outfits and poses, that is exactly what he struck me as – a poser. Pursed lips and flared nostrils will only take you so far and after a while of watching the camera pander to his fit body (the man didn't need fanfares and trumpets every bloody time he put in an appearance, for chrissake!), I got seriously tired. Especially when that coupled with the ultimate of posers, Aishwarya Rai, I felt real close to throwing up.

Speaking of Ash, what's with the attitude, woman? Like, did someone tell you, like, it will make you seem, like, uber-cool or something? Like Sunehri should get her brains, like checked? Let me tell you, Ash dear, you might have the bod, the figure to die for but you cannot carry off that attitude. That actually takes some decent acting skills, one, like, you are desperately short of.

And oh, HOW can I forget the other fit bod, Bips? Shonali and her twin, Monali? What is this? A salute to Seeta and Geeta- Why? Why??Why?

I think it was a good thing the movie finished when it did or else two things would have ensued: 1. I would have gone on a killing spree 2. I would have had an aneurysm.

Which is why I am putting this desperate plea to all of you out there: please give yourself a break, save your brain matter and stay at home. Avoid watching this movie – raking in the moolah, thanks to mugs like me who wanted to check it out, is giving Gadhvi the idea that dishing out crap like this works. So please, my desi brethren, let's say no to crap. Save brain matter.
Posted by DesiGirl 9:49 AM 4 comments    
Labels: abishek, aishwarya, bachchan, basu, bipasha, chopra, d:2, dhoom, hrithik, rai, roshan, uday
'Chinna Chinna Aasai' sang Minmini almost 15 years back, heralding a new era in Indian music. The world sat up to take notice of this new sound. A brand new star was born.

A R Rahman burst through like a breath of fresh air with Mani Ratnam's Roja and changed the way Tamil and slowly rest of India's music sounded. Ilaiyaraja had ruled the South till then as the undisputed king among the composers. There was none to beat him, no one even to come near him. If the 'maestro' decided to do the score for your movie, you can rest easy in the knowledge that you are going to have a hit on your hands.

Raja's sounds were mostly grounded in a rural background – the harmonium famously was at the composer's fingertips at any given time. That doesn't mean that his songs were only of the typical folk song variety. His music for Mani Ratnam's hit 'Dalapathi' was phenomenal. He has composed some of Tamil industry's most famous songs – 'Ilamai ennum poongatru', 'Idhu oru pon maalai pozhudhu', 'Raja raja sozhan', to name a few.

Most of his contemporaries also went along the same route – M S Viswanathan, Deva (who was more like a poor man's Raja), Gangai Amaran etc. Ilaiyaraja did not really have any real competition – he ruled alone and he ruled long. Till a 25 year old genius burst into the scene.

A slight difference of opinion between Mani Ratnam and his favourite composer urged him to look for a composer elsewhere, latched onto the young Rahman who was busy composing ad jingles and the rest, as they say, is history. His choice of instruments, the arrangements he used, the different tones and tunes he produced – everything was as different from the prevalent music of the day as the proverbial chalk is from cheese. The public lapped it up eagerly and were soon hungry for more.

He followed Roja with some memorable songs from Thiruda Thiruda, Gentleman, Puzhiya Mugam, May Maadam, Karuthamma, Duet,Indira, Bombay, Rangeela and more recently, Taal, Lagaan, Boys Rang De Basanti and Guru. He was the first ever music composer to win the coveted Rajat Kamal Award at the National Film Awards for his debut effort. He has gone on to win this award thrice more, for Minsaara Kanavu, Lagaan and Kannathil Muthamittal - the most by any music director.

The awards he has won, the global recognition he has achieved, the wide range of projects he's been a part of is too many to list. More than anything, what he has single-handedly done is changed Indian background music forever. Till he came onto the scene, filmi music was primarily used to give the audience a break from the onscreen action. With his advent, that changed completely – a movie's soundtrack became as important as the movie itself. Cassette sales soared and became an indication of how the movie would fare at the box-office.


Above all, Rahman introduced the Indian audience to a brand new, urban sound. Till then, most of our music was of the folksy, villagey type and the disco numbers all sounded a bit samey. Rahman blew that whole scene out of the water and brought in new sounds – techno, electric, big orchestra arrangements that sounded like nothing like what we had heard before.

With Alaipayudhey, he introduced the audience to the new, sexed-up version of the normally staid Hindu wedding mantras. When he sang 'Mangalyam', blended it with those awesome beats and merged it so beautifully with the theme song Enrendrum punnagai - the effect was a thing of sheer beauty. For the first time ever, it it became cool to sing mantras!

But sounding quintessentially urban didn't mean that the man couldn't do villagey music. He sure could and did, in his own inimitable style and the resultant sound is normally something we've never heard before. I am, of course, talking of Then merkku paruva-k-kaatru from Karuthamma here. Even Kummi Adi is a typical village number, Rahmanified as it is!

I shall not be remiss in not mentioning his foray into Punjabi bhangra. Though he has said a lot of times that he felt comfortable with Tamil music, as he did not understand Hindi, he has composed some absolute gems for films like Rangeela, Taal, Bombay, Dil Se and more recently Rang de Basanti. The title song of RDB, sung by Daler Mehendi sounded absolutely fresh and completely different from the usual bhagra songs one often hears. Of course I do not listen to bhangra music much but to me, they always sounded the same - till ARR and the Ting ling ling ling.

Meanwhile, Rahman's assistants branched off on their own and took the new Rahmanish sounds with them whilst some of the new ones on the horizon were inspired by it and started emulating the same. Harris Jayaraj (Minnale, Kaakha Kaakha, Vettaiyadu Vilaiyadu), Praveen, Vidyasagar, Bharadwaj, Devi Sri Prasad were all part of this new brigade. Though all of them have gone on to make some great music scores, there is none to touch ARR, none to match his attention to detail.

The consummate professional that he is, he clearly differentiates between what is played on screen and what you slip into your CD player, unlike the other music directors, whose screen music is no different from the on they release on CD or tape. This makes his music sound that much crisper when you listen to the audio whilst the video has a special extra bit going for it. A classic example of this is his recent Kummi Adi from Sillunu Oru Kaadal - while the CD version starts with a big bang, in the movie there is a slow, folksy interlude before the actual song.

Rahman also has a special music interlude for any crunch / special situations in the plot. Oftentimes, this would be the chorus part of the main romantic song of the movie. In the aforementioned movie, the main part of the song Munbe Vaa was the background vocal for the Gautham – Aishu wedding scene, the same song that they sing during happier times.

These might seem insignificant but attention to little details like this is what sets ARR apart. Devi Sri Prasad, in his latest hit Bommarillu would have done better to have picked up these tips from the master and utilised them in his song Laloo Darvaja. Whilst having Jayasudha sing the Krishna bhajan-type number makes sense in the movie and adds to the plot, it slows down the tempo of the song in the CD and breaks up the whole rhythm.

ARR is also the king when it comes to the quality of his music mixes. His music has a slick feel to it that, despite his detractors' pronouncement that his tunes would never stand the test of time, have nonetheless stayed the same through the years. His old hits still sound just as melodious as they did the day they came out. Though Rahman's music take a bit of getting used to, they do grow on you after repeated listens and become impossible to move away from.

The man is not without his particular quirks – one of the most famous ones being his penchant to record at night. He is famous for doing the best part of his recording with the moon; his singers are all well used to getting on the car in the dead of the night and finishing up at the break of dawn. Recently, though, he announced he was going to try to change that habit and carry on his recording work at daytime.
Another of his famous peculiarities is his wish to keep things natural – he is rather taken up by the 'rawness' of a voice. To that extent, he used to make singers out of people with no formal music training whatsoever, depending more on their raw tone of their voice to carry the tune through.

ARR has come a long way from his young Dileep days, when he was struggling to make ends meet. Today, he is one of the most famous music composers in the world. He has taken his music far and beyond the country's shores – collaborating with Sir Andrew Lloyd Webber for Bombay Dreams, working on the Chinese film Warriors of Heaven and Earth and even composing the score for Lord of the Rings stage production. He has done all this and more; but to me, he will always remain the man who changed Indian music completely, forever.

His music is everything – slick, beautiful, sublime and timeless. Long may it resonate around the world.
Posted by DesiGirl 10:12 PM 1 comments    
Labels: allah, ARR, bombay, composer, hindi, indian, mani, movie, music, rahman, rakha, ratnam, roja, tamil
Oh how the mighty have fallen! A R Murugadoss, who gave us the fantastic Ghajini last year, is back this year with a bucket of old tripe called Stalin. I, for one, am convinced that the only reason good folks around the globe are putting down their hard-earned money is because it has the 'mega star' Chiranjeevi in it. From Chiru's point of view, he delivers a decent message, possibly laying the groundwork for his political career but the movie is just one big washout.


The story is nothing new - the hero is this champion do-gooder, an Indian Army Major, who has been discharged due to some mysterious reasons. His hankering to spread goodwill amongst his fellowmen comes to fruition with his pyramid-scheme plan of helping three strangers, who help three others and there on, it spreads (members of GoldQuest take note) to include the general population. He thus helps a mum get an infant back, who in turn, helps somebody else and the chain carries on, and on, till the climax when one of the benefactors of said scheme ends up helping Chiru make an escape from the villain's henchmen. But the way it has been portrayed, the plan progresses rather one-dimensionally, instead of the envisaged pyramid format.

In the course of the day, he comes across a semi-thug, whose FIL is the real thug (Prakash Raj in one of his most pathetic roles) who want to thrash the life out of him. Helpfully enters Trisha into his life, to provide the necessary leverage for the villain's goondas to collar her and start yet another fight with the hero.

The movie continues along the same vein, a few song and dance routines in far-flung exotic locales interspersed with action sequences, which finally end in a climax sequence, where the hero is fighting for his life in hospital, after fighting off Prakash Raj's goons as well as the assorted junta who had gathered around to watch the shooting but who were roped in when the supply of baddies ran out, with the doctors trying to patch him up. The docs cave in half-way as an old Army injury (the real reason why the man got the boot - that it was a medical one and as such, might be of slight importance to him totally escapes everyone's notice) threatens to get worse but the hero's brother shouts at and pleads with the medico in turns, who then does an about turn and starts where he left off and hey presto! the man wakes up to thank the auto fella who drove the vehicle that helped him escape the baddies who were chasing him down the highway who, just happened to be one who benefited from the 'help 3 people pyramid scheme' hatched by said hero, who is thrilled to bits to hear the success of his plan. Phew! Of course, by now, most of Andhra Pradesh is camped outside the hospital, praying for the hero's recovery.

**Yawn**

How many more times will we be served this same old, left over tripe, glossed over with just enough glaze to pass off as a new movie? I have had it. This movie has so many holes in it that it can put any slice of Swiss cheese to shame. Granted, helping others is a good concept and post-Munnabhai, a lot of movies seem to be going this route but why the rest of the palaver to deliver this simple message?

There is none of the professionalism the director exhibited in his previous venture. The movie comes across as a B-grade imitation affair which is real sad, really. Take, for example, the scene where the hero puts his 'help three strangers' plan into action. The first person he helps is a mum, who has left her baby in her car (helpfully leaving the keys on the door) while she goes to the pharmacy. The hero and his sis happen to walk past the car, even as the baby starts to wail, open the car (!), take the baby out and take it around the shops, asking if the shopkeepers had seen the baby's mother (!!). By now, the mum has got back to the car, which unfortunately has been towed by the traffic police (!!!). In a state, she gets to the impound lot and gets to the car instantly (!!!!) but of course, there isn't a baby inside the car. She starts hitting the police asking everyone where's her baby. No one helpfully points out to her then or ever, what an idiot she was to leave her baby all alone in the car, along with the keys, whilst she went shopping.

The hero has of course, rescued the infant and has left his details with the R.T.O office, who trace the car and give him the owner's details. Hero takes baby to its home and rejoins its with its mum, first imploring with the happy dad to help three strangers. This whole parody had me in stitches, I tell you. Where in our country do we get such a wonderous group of people, pray tell me, that turn out such examples of instant service? And who are we talking about here - the traffic police, the impound lot, the blessed RTO office, for chrissake! In which opiate dream did they become so?

There are loads more rib-tickling moments of similar nature, the fight sequences, for instance. The stunt-director seems to have been inspired by Hot Shots: Part Deux - thugs literally fling themselves at Chiru from all directions who simply spins about and poof! they fall down like dominoes! This is the way every single fight is choreographed baddie runs headlong into hero, only to go flying out and ends up on his face; baddie 2 follows suit next second and so on the routine continues till the supply of baddies is exhausted.

Trisha seems to be there in the film purely for decorative purposes. But if she gets to take home a cool Rs 25 lakhs (rumoured to be much more) for wearing skimpy outfits and shaking a leg in exotic beaches, then hey, I'm sure she'd sign on the dotted line a few more times. Though I am sure she can swim passably, she has to work on the rest of it. Being shown as a champion swimmer is one thing, but jumping into water to start off a race with all the finesse of a sack of potatoes is another. Oh and the fact that she looks and is, young enough to be Chiru's daughter shall not be mentioned, ever!

Khushboo fits the part of big sis comfortably and does justice to her role, as does Sharadha, who plays their mum. Sunil in a light-hearted role with some serious overtones comes up trumps. The rest of the cast is there just to add strength to the numbers. The cameraman's awe of the mega star is visible in every frame as the camera simply dances away merrily, giving everyone watching sore eyes. The soundtrack is instantly forgettable; none of the songs even registered in my mind even while I was watching the film.

Strictly for die-hard Chiru fans ONLY. Rest of you can stay at home, relax with your favourite HotShots DVD.
Posted by DesiGirl 10:25 PM 2 comments    
Labels: chiranjeevi, chiru, indian, khushboo, movie, south, Stalin, telugu, tollywood, trisha
Mani Ratnam's winter release GURU, with Abishek Bachchan at the helm, is this year's most awaited film. The last Mani Ratnam movie to come out was Ayutha Ezhuthu two years back. He made India sit up and take notice of the junior Bachchan as an artist of note. Now he is back with a straight Hindi film, which is widely reported to be based on the life of the late Dhirubhai Ambani.

Mani Ratnam and A R Rahman have always been a winning combo, since their Roja days. Together, they have created absolute magic and it is no wonder that expectations are sky-high with the upcoming release. Mani Ratnam has pulled off a casting coup of sorts, with Aishwarya Rai, Madhavan, Vidya Balan and Mithun Chakraborthy sharing stage with Abhishek. Though the cast is of no importance whatsoever when the director is Mani, the media's interest has been more than piqued, imagining these artists together, in one movie.


The audio for GURU was released in Mumbai earlier amidst much fanfare. There are seven songs on the album and one can see more than the odd interesting name amongst the singers. For instance, Bappi Lahiri is singing a Rahman song for the first time ever. The song, Ek Lo Ek Muft is quite unlike anything Bappi has sung till now. It is a typical Rahman number, which in turns means that Bappi is trying to do something completely different to what he has done before. For that reason, I wonder how much acceptance this song would get amongst the singer's fans.

Ey Hairathe first grabbed my heart when I downloaded the ringtune from the movie's website. It had an odd melancholy to it that reminded me of Bombay. Hariharan's voice, as he sings the ghazal-like verses is mesmerising.

The song, Tere Bina is already proving to be a rage among the fans – every website carrying the music review has raved about this number. After listening to it a couple of times, I can understand why. It is ARR at his best and for me, one of the best songs of the year. Chinmayee's voice blends really well with Rahman's and the result is a melodious, classical number that will keep resonating in your ears long after the CD has finished playing.


Barso Re, sung by Shreya Ghoshal, is a rain song. I haven't heard a good rain song in years and now this one has come to end the drought. Like a typical rain song, this is full of pep and energy. Like Tanvi in Sillunu Oru Kaadal, ARR has made the singer change her voice modulation to suit the mood of the song and I have to say, this time, it was worked perfectly. For Shreya herself, this song is sure to bring numerous accolades.

Jaage Hain, with Chitra getting together with Rahman, is another decent track. Most of the numbers on this album are of the slow variety and this one is no exception. But it is great, nonetheless, with the Madras Chorale Group joining the two main singers to do the backing vocals. The mood of the song is that of a big stage, orchestra production and the singers do full justice to it. The vocals are amazing and Chitra sounds absolutely fantastic. A class number, this one.

To me, the best song in the collection is Mayya Mayya. Sung by Canadian singer Mayyam Toller and Chinmayee, this is a sultry number, with the singers' voice blending together beautifully. The song is sure to raise the pressure of any red blooded-male (or female, why be sexist?!) up a couple of notches. Another number with Middle East overtones, this one is a sure winner. This song is the one that is rumoured to have been picturised on Mallika Sherawat.

Baazi Laga, by Udit Narayan, Bhargavee, Madhushree and Swetha is one number I did not like. It does not sound like a Rahman composition to me, and the whole arrangement did not jive. Gambling songs are popular in the Indian movie scenario, one of my most memorable ones being Aadi paaru mangaathaa from the movie May Maadham. I cannot be the only one who feels disappointed with this one.

The album, on the whole, has mixed offerings – some might strike a chord in your heart instantly while some you might dislike so much you want to skip to the next track. But in my opinion, this is pure ARR – most of his songs take a bit of getting used to before they grow on you. Give it a couple of listens and then judge the songs – you just might love them!
Posted by DesiGirl 12:20 PM 7 comments    
Gautham Menon is one of the hottest directors in Tamil cinema today. His first movie in Tamil was the Madhavan-Abbas-Reema Sen starrer, Minnale. He became famous when his 'Kaaka Kaaka', starring Surya and Jyothika became a super-duper hit. He recently made Vettaiyadu Vilaiyadu, with Kamal Haasan and Jyothika. Shooting for his fourth project, Pachaikili Muthu Charam, with Sarath Kumar and Jyothika is going on at full steam as the movie is set for a Christmas Day release. It is at this time that I got a chance to chat with one of his assistants for the movie, Meghana Karthik.

Q: How did you end up where you are, as an assistant director?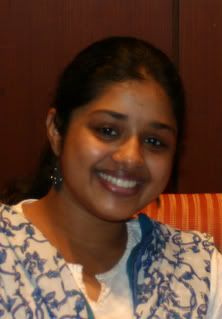 Meghana: Well, this is something I've always wanted to do – films, I mean and I've always had this love for Tamil cinema. So I put down options which were films, ad films and photography. And right now I seem to be doing two of them - films and photography.

Q: How did you meet Gautham Menon?

Meghana: I have a friend who is a music director and one day I asked him if he could speak to Gautham for me. He did, it worked and here I am!

Q: What exactly does being an assistant director entail?

Meghana: Being an Assistant director involves diff kinds of work. It could be anything from taking out scene print outs, to scheduling the shoot as per location, telephoning the production dept on which dates which artist is required to calling for the props and informing what costumes are required for the next day. When I started, I didn't really get involved with the script, so I've been in charge of taking care of the continuity.

Q: Never a dull moment then! How do u take care of continuity? Do you take pictures to help you - like photograph the set, and the people at a certain time so you can come back to it later and make sure it is the same way?

Meghana: Yes. We have a photographer who is full time on sets. He takes all the photos and we ask him for specific continuity snaps, for example, a close up of this particular shot for the "scar continuity". Apart from that I have to maintain what's called an editing report, in which I write down who's wearing what costume in which scene.

Q: Sounds pretty intense - and involved!

Meghana: It is. The most important thing is that your eyes and ears should always be open. Meaning, you should be highly observant and equipped with whatever is required as you wont know when the director will ask you for what.

Q: Siddharth, when speaking about his days as an assistant to Mani Ratnam, once said that when you are an assistant director, you are at the beck and call of everyone - is that true?

Meghana: Yes, you can say that. From scheduling the shoot, to coming early to the spot and getting the costumes ready for the day, to making sure the artists are ready and to call them before the shoot - all of these are part of an assistant director's job profile!

Q: Definitely not a 9-5 job then!

Meghana: No way! After shoot is over, we go to the office and take print outs and organize things for the next day. Since it involves a lot of background work, our unit has around 6 assistants. We split the work equally and some days I get loads of work and some days less – it all depends on the workload of the day. But we all get along fine and have our roles sorted between us, to make the whole thing work like clockwork.

Q: So tell me something about this movie you are working on.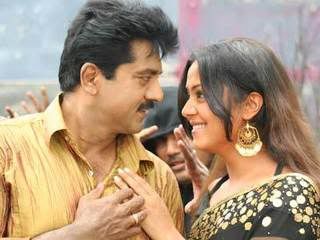 Meghana: The movie is called Pachaikilli Muthu Charam and has Sarath Kumar and Jyothika in the lead. Top model Milind Soman does a role that has negative shades to it . The film also has Andrea. It's a family based story, which has an interesting twist in it (smiles) - so watch out for that one!

Q: I thought Jyothika has quit movies post her wedding to Surya?

Meghana: Yes, that's true. The shooting for her part was completed a while ago

Q: And Andrea, is that the singer?

Meghana: Yep! Andrea the singer, model, theatre personality and now, actress!

Q: Tell me something about your background - school, college?

Meghana: Like I told you, I have always been interested in movies. With a view to getting into that as a career, I chose Visual Communications at Bachelor's level. Then, I did my Masters in Television and Video Production at Xaviers Institute of Communication, Mumbai. Once I completed that, I came back to Chennai to pursue my dream of getting into films. And as luck would have it, about three weeks after I came back, I got a job with Gautham sir!

Q: What did your parents feel about your career choice - working in the big bad world of movies?

Meghana: I basically come from a media background, so it was not very difficult to convince them. My dad's a photographer and he produced ad films in the late 80's and early 90's, so its nothing new to my family. The most important thing is that I had always said I wanted to do either films or photography. So it was just easy when I got into Visual Communication, did well and right after that I went to Mumbai for my masters and soon after that, landed here!

Q: You said you have always liked Tamil movies – do you have a favourite?

Meghana: Oh, now that's a difficult one! There are so many, I really can't choose one. I really like movies by KB, Mani Ratnam, Kamal Hassan and of course, Gautham sir! I don't think I have an absolute favourite one as such. I watch so many movies that it is impossible to name a few, much less one!

Q: That is important, isn't it - to watch different types of movies, made by different directors, so you can learn from them all?

Meghana: Absolutely!

Q: Do you have a favourite actor?

Meghana: No!

Q: So who would be your ideal hero to cast as lead in your own movie?

Meghana: Depends on my script and I haven't thought of one so far. I would love to work with Surya, Dhanush, Madhavan, Siddharth and Rahul Bose.

Q: Not every assistant director ends up as a successful director - what do you think would you have to do to make sure you don't become part of the statistic?

Meghana: Well, cinema in general has this belief that people who make it big in "commercial films" are successful directors. In fact, there are so many other directors who make good art films and are brilliant at what they do. But they still do not get the recognition a commercial director gets, simply because the reach is not enough. It is true that people follow the commercial films. I feel that somewhere down the line they get lost because they might cast a small hero. The heroine would be dressed in skimpy outfits and won't know how to act and the story would be a clichéd love story - girl meets boy, they fall in love but separate and…

Q: Now you have just described most of our movies! Fair girl, skimpy clothes, running around trees - add anorexic to it and you have some of our so called 'numero uno' heroines!

Meghana: (smiles) Well! To answer your question, I want to make films, yes – good ones. Don't know if it is going to be a commercial one or an art film. Whether I am being recognized as a big director or not, I want to make films which inspire me.

Q: Good answer! Okay this is one of my pet peeves - going abroad for a song and shooting it in exotic locales - why can't the same song be shot just as brilliantly in our own country? We have got great beaches, backwaters, mountains, lakes, waterfalls why do the moviemakers still prefer foreign to local?

Meghana: Hmm. One could be publicity - "oh this Surya-Jyothika song is shot in New York and its awesome". But if you cast your mind back a bit, you might remember the old days when they used to erect these ugly sets spending quite a few lakhs and shoot a song that wasn't too visually appealing. I reckon at some point in time they figured out going abroad with a smaller crew for a week and shooting a song worked out cheaper.

Q: Is that the only choice - shoot a song in Majorca or set a plug-ugly set in Chennai and make a mess of it? Why can't we go to, say, Kuttralam and shoot a song?

Meghana: If it were me, I would try my best to shoot within India. Unless, of course, my script "demands" a foreign location! But, I agree with you - there are beautiful places in India and there is no reason why we cannot shoot here!

Q: I have to say, you are very diplomatic!

Meghana: No just being honest about the way feel about certain things!

Q: Ok, last question - what, in your opinion, is a film maker's job / duty?

Meghana: Well, that's easy! A filmmaker should make people feel they're part of the action when they're watching the film. Let the audience live vicariously for a bit!

Q: Well said! Anyway, thank you for taking time out to talking to me. I shall look forward to seeing Pachaikili Muthu Charam - as well as your own one in the future!

Meghana: Thank you!
Posted by DesiGirl 11:25 AM 23 comments    
***SPOILER WARNING*** This post contains details of the plot so please be warned ***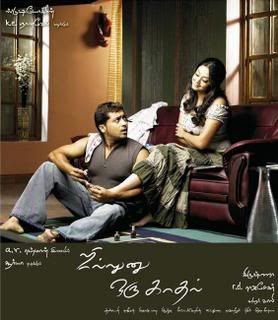 Long before the movie was released and the hype and the hoopla started, I was quite keen to watch it. Any movie that had a sublime song like 'New York Nagaram' must not be missed, I told myself. Well, you live and learn, don't ya?

What put me off about 'Sillunu Oru Kaadal', let me count the ways.

1. The title - if there ever was a misnomer, this was it. There was nothing 'sill' about this movie. It was not at all the jolly, happy-go-lucky you would expect, at least from its title. 'Damp squib' would have been a better fit.

2. Characterisation of Bhoomika - What did that poor girl do to you, Director Krishna? She was practically non-existent in the movie. Why did you make her into that wallpaper? The only time she came alive was in the vamp attire and attitude and then, boy, she smoked! Jo paled in comparison.

3. Dialogue - the way Aishu declares her love for Gautham will remain forever, on the top of the 'how not to declare your love to your sweetheart' list. I mean, ick! 'Nee mattum pakka vendiya odambe ellaraiyum pakka vechittiye?' Give me a break! I am too pissed to even translate that!


4. Aishu's dad - this man is portrayed as the villain in the life of Aishu and Gautham, the high powerful man, splitting his daughter and her newly married husband seconds after they tie the knot. He not only beats his son-in-law senseless, he manages to transplant his daughter to another corner of the world. When did that man become the snivelling, bumbling fool he was shown as in the second half? Did his daughter's anger melt him into such a puddle? Why didn't she turn this anger on him so he didn't split her and Gautham up, in the first place?

5. Picturisation of songs - if this is the best we can do with ARR's songs, then it is no wonder the man is not too keen on making music for Tamil movies any more. What is the big idea in shooting a song entitled 'New York Nagaram', in Lucerne, pray tell me?

6. Narrative - at no point did the story settle into a smooth narrative. It sort of lurched along in fits and starts.

7. The title song - Tanvi singing the song in that dreadful affected tone put me off big-time. Unless you do not know Tamil, it is bound to get on your nerves - it grated mine.

8. The diaryWhy is Gautham's diary written like a third-person narrative? Wouldn't you write the diary for yourself and not for some audience?

9. The validity of Gautham's marriage to Kundavi, in light of his outing with Aishu.

The story, such as it is, is this: Kundavi (Jo's character) is a typical village belle, who's got this big dream of falling in love with a tall, dark, handsome man and marrying him. Of course, things do not go that way and she ends up marrying Gautham (Surya),as ordained by her family. She thinks this is the end of her life. But when we meet them five years later, life is not over for Kundavi but has just taken a lovely turn. She has blossomed into this bindaas Mumbai girl, with a cool job in advertising, a lovely 5 year old daughter Aishu (how trite can you get?) and mechanic hubby Gautham who loves her to bits. 'I am the happiest man in the Vorld' shouts he from the rooftops. That seems to be the cue for the twist in the tale.


One day, whilst rooting in the loft for something for her child's school project, Kundavi comes across Gautham's diary and she learns about his rowdy past and his girlfriend, Aishu (there was no reaction to that - disappointing!) and his *gasp* marriage to her, which is rudely interrupted moments after the knot is tied by the arrival of her political big-wig dad who hauls her home while his goons beat Gautham to a bloody pulp. When he vows to go after Aishu, his guardian-uncle takes a toss from the stairs (ho hum) and makes Gautham swear that he would marry Kundavi, moments before giving up his own ghost. But what sticks in Kundavi's mind is Gautham's statement that he never even got to live a day with his beloved Aishu.

Of course, the bottom falls out of Kundavi's world and because she loves her husband to bits, she decides to make things alright by hunting down Aishu and giving her and Gautham a day so they can get it out of their system.

Ye Gods!

Whilst the concept might have started off as something original, the treatment of it leaves much to be desired. The movie fails on many levels. While cashing in on the Jo-Surya romance and timing the release so it was just before their wedding is good marketing, not delivering the package is a big let-down. The only reason the movie is limping along is due to the fascination of their fans with their real-life romance and they just want to catch a bit of it.

Big, fat, disappointment. Best avoid this if you are not die-hard Surya-Jo fans.
Posted by DesiGirl 8:48 PM 2 comments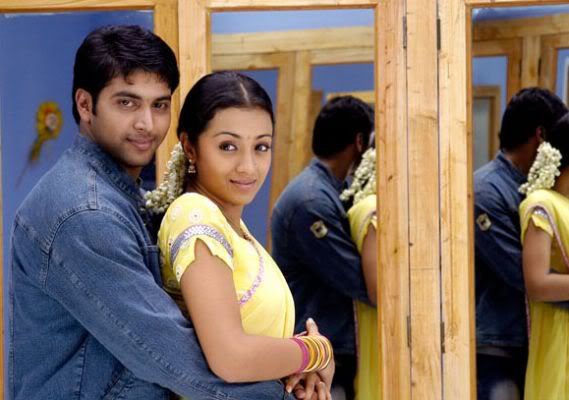 Remaking movies - in other words, lifting the success formula from one language and neatly transferring to another - guarantees instant moolah. Or so the belief goes. This, in my opinion, is the reasoning behind remaking a movie. This concept has been employed time and again to varying degrees of success. One of the most successful remake franchises was that of Munnabhai - its Tamil alter ego Vasoolraja and Telugu counterpart Shankar Dada went on to duplicate Sanju's antics and laughed all the way to the banks.

In the South, Vijay is one of the popular leading actors who employs this tactic regularly, to varying degrees of success. He buys the Tamil rights to a hit Telugu movie, makes it with self as the leading man and hey presto! another super, duper hit ready!! Gilli was one such hit that proved to be a great buy for him, while Vaseegara was a squid. Now, with the rights to Mahesh Babu's blockbuster Pokiri in his bag, Vijay can almost smell the success once again.

'Jeyam' Ravi is another who follows in the same footsteps. He, too, had good runs with his previous movies M Kumaran S/O Mahalakshmi and Mazhai, the remake of MS Raju's megahit Varsham. When news of Bommarillu hit Chennai, there was widespread frenzy amongst Vijay and 'Jeyam' Ravi, amongst others, to net the Tamil rights and sit back and watch the money come rolling in. But things didn't go their way, with Prakash Raju coming up trumps. But 'Jeyam' Ravi needn't go home with nothing - after all, he's starring in last year's Telugu hit Nuvvostanante Nennoddantana (NVNV), which cleared the table at this year's Filmfare Awards.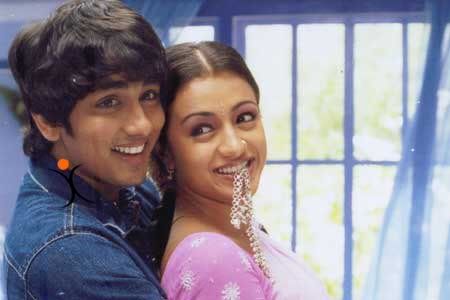 In Something, Something, NVNV's Tamil version, Ravi plays the role of rich NRI lad Santhosh, the same role that made Siddharth the poster boy of Hyderabad last year. Siddharth owned this role, revelled in it and made it completely his. He was hyperactive, bouncing off the walls, super-cool and full of pizazz. This so contrasted with his mature look in the second half, that it worked really well for him. He, in short, talked the talk and walked the walk and was Santhosh, the super-rich, London-born and bred chap. Ravi, well, didn't just cut the mustard. Everything about him was a let down.

For starters, he spoke with a marked Tamil accent - strike one against a London-born guy. In the scene where he counted the stars in the sky for Trisha, going '1... 2... 3...... 10', I split my sides, laughing. This Santhosh most certainly did not grow up in London! Every single act of his was an imitation of what Siddharth did in the Telugu version - there was nothing originally Ravi in the whole movie. His antics pained me so much that I had to walk out well before the climax.

Maybe it wasn't Ravi's fault - that is the cross all remake heroes have to bear. No matter what a brilliant performance he had managed to come up with, he still would have been compared to the original. Well, I'm loosely calling it original but there's nothing original about the storyline. It is Maine Pyar Kiya and a whole lot of other romantic stories mashed up and served with some fizz. But what it also is a frame by frame copy of NVNV.

One of the biggest drawbacks that Ravi's got is his voice - he just doesn't sound macho enough. There's this scene in Mazhai where he's supposed to stand up to the bad guys and make them quake in their boots. But in that mousey voice of his, all he managed to do was make me almost wet myself.

Another huge letdown was Bhagyaraj. While I have never been a fan of his, I wept for Prakash Raj as I saw Bhagyaraj take the role so brilliantly essayed by that great actor and bring it down to such a level. In the Telugu version, Prakash Raj is this silent, stoic businessman, who adores his son whilst suffering his wife's caustic tongue with some admirably repressed passion. In Something, Something Bhagyaraj, in his trademark verbose style manages to make you wonder how such a character managed to amass millions and earn such a major name for himself in England's capital town. When he tells his brother-in-law and the BIL's partner that whilst his wife may appear to be the boss during the day, come night he will take charge, how crass can you get? While Prakash Raj was this suave, sophisticated millionaire, Bhagyaraj comes across as this bumbling, uncouth man in ill-suited finery. The scene where he pontificates about the greatness of komiyam (cow's wee!) in his quest for water to quench his thirst has to rank in the top three as the most idiotic scenes in the whole film.

Though it was just an old story rehashed, NVNV managed to sustain the audience's interest due to its treatment and the casting. This is where the Tamil version fails. While Something, Something has successfully managed to remake the Telugu movie frame by frame, remaking the Best Actor award will not prove to be such an easy task!
Posted by DesiGirl 12:26 AM 4 comments    
I have often wondered about that parody called 'comedy track' - this is a concept that is unique to Indian cinema. 90% of our movies have a comedy track running parallel to the main story line; very few of the really good movies have this feature.

Most of the time, these comedy tracks are anything but funny - many of them are so annoying, you feel like slapping the so-called 'comedy stars'. Goundamani and Senthil, were a comedy duo from the 90's Tamil cinema and Goundamani used to kick the hell out of his companion, in order to get a few laughs from the galleries. I wonder which fertile brain thought this would be funny but after the 100th performance, I would have cheerfully planted one in the director's bum myself, gratis!

Sometimes, they degenerate into double-entendres and cheap one-liners. This causes a widespread squirm fest and rarely have I seen any sane, sensible person crack a smile over this. But what really gets my goat is when they try to emulate laughter by making fun of people's disabilities - like a stammer or a limp.


In the Telugu filmdom, there's this funny chap named Sunil, whom I think has the potential to become on of the current generations greats. But because our filmmakers have this strange idea that to be a comedian, you must be blessed with an IQ of that of a retarded flea or it won't just fly. So poor Sunil ends up looking like a gormless idiot, film after film after film. In one of his scenes in 'Nuvvostanante Nenoddantana', he upsets a tray of hot coffee cups on the leading man and is told he doesn't have any brains. That sums up the requirement for the comedy talent.


It wasn't always like this - we had some great comedians in the days of yore. N S Krishnan was an ole Tamil funny man, who had people rolling in the aisles. He literally cracked people up. His facial expressions, his words, everything was rip-roaring funny. There were loads more of his ilk – Manorama, 'Cho' Ramaswamy, 'Kathadi' Ramamurthy, to name a few.

Even in today's cinema, we have some comic guys - Vivek does a good job of it mostly, but the other so-called 'comedy heroes', I'd rather roast them in oil and serve them with chips. Vivek is quite different from the others, in that, he touches upon loads of current issues in his gags. Be it a gentle dig at the reigning govt, local happenings, general state of affairs - he would utilize them in his script and more often than not, bring down the house.

I have noticed that many of the really good ones doing this. American stand up Lewis Black pokes fun of everything and everybody. Though his routine is littered with swear words, it still rises more than a few laughs.

I feel that there are many, many good comedy actors out there – but either the director's lack of trust in his abilities in carrying a movie forward without anything bawdy or the comedian's own sense of 'comedy' makes things take a left towards Ick land. I sincerely hope that the quality of our funny interludes increase before it degenerates into something incomprehensibly worse.
Posted by DesiGirl 10:57 PM 1 comments    
Take an ordinary, simple storyline; get some brilliant actors; throw in some decent music; give it all a good mix - what do you get? A movie called Bommarillu (means doll's house). The story is this: Siddhu (Siddharth) is a college lad, in his senior year, whose only wish is to live his life the way he feels like. This may seem simple enough to you and me but not to Siddhu, whose rich, industrial magnate father (played by Prakash Raj) micro manages every single aspect of his life. Just when Siddhu's dreaming of finding himself a girlfriend as well as charting his own career, well away from prosperous dad's, daddy dearest throws a bomb in the form of 'match fixing' - he arranges Siddhu's marriage with a homely girl without so much as a by your word.

Siddhu drowns his sorrows in regular drink sessions with his best buds - his life seems to go on the course charted by his father, till the day he literally bumps into Haasini (Genelia). She comes in like a breath of fresh air and wound-tighter-than-a-coil Siddhu loosens up enough to fall in love with her. When dad finds out about this, the household rocks in its foundations and Siddhu tries to rescue the situation by coming up with the drastic plan of getting Haasini stay in his house for a week, so his family could get to know her.

To cut a long story short, Haasini lives with the family for a week and breaks Siddhu's heart to smithereens by rejecting him at the end of the period. What Siddhu does next to confront his dad and convince Haasini that he isn't hopeless after all, forms the rest of the story.


Plus: Sid's acting, period. The boy gives an understated, sublime performance as the troubled son who is unable to live his own life as he is ruled by his loving but domineering dad. His angst is visible in every frame and hats off to him for not overdoing it during his 'sozzled to the gills' scenes. The work he has put in is obvious in the chemistry between him and Genelia as well as with Prakash Raj, who plays his father in the movie. Siddharth apparently spent a week in Prakash Raj's house in Chennai, 'bonding' with the senior actor so they could develop a decent chemistry - which forms a vital part of the movie.

Prakash Raj, the consummate artist that he is, once again comes out with a dignified performance as Siddhu's controlling father. Not one wasted word or action escapes this powerhouse. His bewilderment when events unravel in front of his eyes due to no fault of his is priceless. His acceptance of his faults and absolute chagrin at seeing his beloved son suffer due to his actions is a thing of beauty.

Jayasudha, the veteran that she is, makes her presence felt in the few minutes she actually shows her face on the screen. She looks gorgeous as always and young enough to pass herself off as Prakash Raj's wife.

Sunil is fast becoming a comedy artist of note - I hope that this actor gets some decent roles from now on to actually showcase his talent.

Though I didn't feel that the music was out of the world, the background score and the songs gel well with the rest of the film. The picturisation's good too - Sid's moves to the song 'We Have a Romeo' were brilliant!

For a first-timer, Bhaskar has done a great job of directing the movie. It is heartening to see new talent coming up in tinsel town - good directors making movies from their heart and not churning old hits in new guise to make a quick buck is a welcome development.


Having waxed eloquent about the movie's best points, I should point out the negatives too - what tops my list is the female lead's characterization. In trying to make Haasini a happy-go-lucky and fun loving 'live for the moment' girl, the director's gone the extra few steps and has endowed her with the IQ of a rather frisky chimp. After ten minutes of her antics, I was compelled to wonder if she was dropped on her head as a baby. I forgive you this time, Bhaskar, as this is your first venture but for future reference, a girl can be fun-loving, friendly, super cool and still possess a reasonably working brain all at the same time!

I have couple of questions though - Why is it that Siddhu's big sis has no life / house of her own and haunts her parents' house all the time? Did they forget the 'kanya daan' part during her wedding?

Also, who was the lady who gives Siddhu a lift to Haasini's house in the final scene?

The verdict?

Def. worth watching. The movie does exactly what it says on the tin though - it is a feel good family entertainer, with no unnecessary violence, no baring of skin (Mallika Sherawat - take note, please!), no touchy-feely scenes - just good, wholesome fare that you can enjoy with your whole family without squirming. There's some brilliant acting, good music, decent story, all delivered in a clean - a good few notches above 'timepass'.
Posted by DesiGirl 2:30 AM 1 comments    
Here's me with my very own Radio show - well, Blog Talk Radio, as it is called. I'd like to try my hand at anything, so here goes! Email me if you have anything you want me to talk about. For my first show, I would like to talk about the South Indian Cinema. Read my blog on it here.


Posted by DesiGirl 11:42 PM 8 comments    
What's happening to Indian cinema these days? More and more, I am reading about blokes who want to become directors, become some big shot's assistant and then end up catching the eye of a director and end up being cast as the main lead in their next movie and.... you can guess the rest.

Or.... a normal, middle-class chappie, with no connection to filmdom whatsoever, gets bitten by the movie bug fairly early in life, completes his education (in most cases, at least a master's degree) and then moves to the local tinsel town and starts churning out films.


Siddharth (assistant director - Kannathil Muthamittal, actor - Ayutha Ezhuthu, NVNV, Rang De Basanti, Bommarillu), Kunal Kapoor (assistant director - Aks, actor - Meenaxi, Rang de Basanti), Madhavan (actor - Alai Payudhey, Minnale, Ramji Londonwale), Siva Kumar (director - Chukkallo Chandrudu), Shekhar Kammula (director - Anand, Godavari), Bhaskar (director - Bommarillu) - the list is increasing by the day.

There has always been a steady influx of wannabes in the industry - but what is different with these guys is that they are just regular blokes like you or me (well not me, exactly, but you get the picture!). That being so, they have spent most of their lives watching movies, dissing storylines and the actors like all of us; being unrelated by blood to the movie industry, they also have a healthy dose of reality running in their bloodstreams, which makes the roles they essay, much more plausible.





What's more, they are real savvy when it comes to marketing their products too. Directors like Shekhar Kammula and Siva Kumar, who did their masters in American universities, have a clear understanding of the NRI movie-going crowd and consider the diaspora when making their films. Now it isn't just the 'masses' that are being pandered to - the urban moviebuff (which could mean anyone from Chennai to San Francisco) is being taken seriously as
audience as well. I, for one, am quite happy at this as the movies these directors churn out are of the sleeker, more polished kind. Releasing their movies in the foreign markets also dramatically increases their profits - as they have no doubt realised.

In short, it seems like the movie industry isn't the playground of filmi spawn anymore. The success of these regular guys has proved that you don't have to be the neighbour of A.R.Rahman's neice's best friend or Mani Ratnam's wife's distant cousin's thrice removed, to enter the Land of Make Believe. With a bit of pluck and effort, some luck and the gift of the gab, you could be well on your way to becoming the next superstar!

Crossposted at Naachgaana and DesiCritics.
Posted by DesiGirl 5:41 PM 3 comments    
The movie is due to be released on August 9. Till then, here's a trailer to tantalise you. Sid dances to 'We have a Romeo' and it sounds / looks just like it is a continuation of Girlfriend (Boys). Is it just the Sid - Genelia connection or is it something else?


Posted by DesiGirl 7:26 PM 4 comments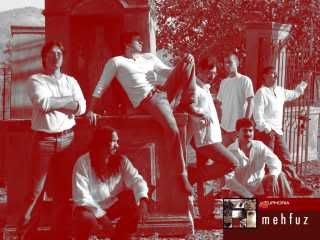 Let me come straight out and admit to being a hard core fan of Euphoria. I was smitten the day I listened to Maaeri, way back in year 2000. That song was the best song I had ever heard in my life till then. Even today, it still remains a firm favourite of mine.

For those who have come in late, Euphoria consist of DJ (bass), Benny (keyboard), Hitesh and Gaurav on guitars, Ashwani on drums, Rakesh and Prashanth on dholak and tabla and Palash, the singer-songwriter, the "brain" of the band.

Euphoria's music style is something uniquely desi. It is full-on fun, full of colour and somehow, something magical. Their latest offering, Mehfuz, is no different. The album contains twelve tracks and each one is a beaut.


The album opens with 'Soneya', a typical Euphoric number, reasonably pacey and with good mixing, followed by the title track 'Mehfuz', which is a slow, melodious number. Guitar chords start the song off beautifully, with Palash singing in his trademark style. Another great song Roshni, with lyrics by Gulzar, is a wonderful, ensemble number.

If Phir Dhoom brought in shades of Punjab, with Maaeri, Mehfuz has some Goan influence in 'Dil', with Benny penning some parts in Konkani. There's some heavy stuff with Sant Kabir and Raheem's dohas putting in an appearance in the appropriately titled 'Doha'.

The only song that didn't sit well with me is the English one 'She's Beautiful' - though the tune is good and the words are alrighty enough, Polly singing away in angrez is taking me some getting used to. I would rest happy when he belts out in good ole Hindi - not that you didn't do the song justice, Polly ole soul but when you sing in good ole Hindustani, it stirs me up!

Barring that, I could list the 11 remaining tracks and praise them to high heavens for the rest of the day (and night) - and still I would find myself bereft of words. Every one of them has a special something to it - all of them have a familiar feel to them, making you feel like you are among old friends again and Palash's voice rings out strong, song after song after song.

If, like me, you are far away home and are feeling home-sick, then slot this CD in your player, get your headphones out, relax with a cuppa chai and you will be transported to India. Kabhi aana Euphoria gully!
Posted by DesiGirl 11:24 PM 1 comments    
The audio of Siddharth's new telugu flick, 'Bommarillu', was released on July 15, after much delay. I, for one, was eagerly awaiting this, not least because the music director, Devi Sri Prasad, seems to have gone through some sort of revival since last year's blockbuster, Nuvvostante Nenoddantana.

There are seven songs in all in the album and while I wouldn't lie through my teeth and say they are all absolutely fantabulous, most of them are good. There's a heavy Western influence - I think we have my favourite, A R Rahman, to thank for that! In some places, the beats seem to intrude a bit but most of the songs are of the foot-tapping variety.

Appudo Ippudo - Siddharth, the multi-talented boy wonder, sings this song. His pronounciation has improved manifold since his < days. This is a fast number and in my opinion, the best track in the album - it has a good pace to it, it makes an easy listen and Sid's trademark bouncy energy has permeated his delivery, which makes it for a great number. His pronounciation has improved 100% since his Chukkallo Chandrudu days. If you cannot believe me, then go back and listen to Yadalo Eppudo and you'll understand what I am talking about.

Bommani Geesthe, sung by Gopika and Jeans Srinivas, is a melodious number. The lyrics are very sweet and the music the song is set to is quite good too. It is a slow number, one of the two in the album. The flute in the beginning of the start of the song, sets the mood quite well.


The composer turns singer with Kaani Ippudu and does a decent job of it. The song has a catchy tune and a nice, swinging beat. Your feet start tapping to the beat before you realise it. I am sure we will be hearing the song's remixed versions on the club floors soon enough.

The opening chords of this song, We have a Romeo, reminded me of those of the song 'Karka Karka' from Vettaiyadu Vilaiyadu. This is a fleeting similarity and the song branches off into its own route soon enough, with the bloke singing about looking for his Juliet. Typically, he lists the characteristics of his girl and the song proceeds well enough. When Andrea comes in with the English verse, it somehow doesn't sit well. I reckon the references to Romeo & Juliet have something to do with this interlude - as long as it doesn't translate to a Genelia on a balcony, with Sid somewhere on the ground level, singing his heart out, I shall be happy!

Laloo Darvaja didn't make much of an impression on me. The same thumping beats that is found in every song plays a prominent role in this one as well. After a verse and a chorus of this, there's a slow interlude by the female singer which doesn't get at all with the main song. After this, the song continues on its previous vein, making me wonder what just happened.

Nammaka Thappani, sung by Sagar and Sumangali, is the other slow number and is a decent one as well. But by now, the thumping beats have begun annoying me. The composer has to pay special attention to the use of the same four beats - after a bit, it feels quite repetitive.

Though the album is a decent enough listen, it lacks the freshness of NVNV. The best bit, for me, was Siddharth belting out Appudo Ippudo - it remains to be seen if that is enough to make it a hit.


Posted by DesiGirl 9:02 AM 5 comments    
Euphoria

Thursday, July 13, 2006


My favourite Indian band of all times is Euphoria. Palaash and gang have completely transformed Indian music scene with their HINDROCK (which totally rocks!). Their 2000 hit, Maaeri, is my favourite song EVER, bar none. I also like their other songs, like Aana meri gully (starring none other than the Parineeta herself, Vidya Balan!) and Ab na ja.

In their own words, the guys can be described as..... DJ, "the backbone" on bass; BENNY, "the fingers" on keys; HITESH, "the heart" on guitars; ASHWANI, "the legs" on drums; GAURAV, "the pulse" on guitars, RAKESH and PRASHANT, "the arms" on dholak and tabla and PALASH, "the brain" on… err….any topic in the world!!
Posted by DesiGirl 10:29 PM 0 comments    

Siddharth's second Telugu movie Chukkallo Chandrudu. He has sung couple of songs and also penned the screenplay. This movie was directed by yet another one of Mani Ratnam's former assistants, Siva Kumar. The story was simple - a young, cool, rich NRI bloke comes to India after intense pressure from his grandparents to look for a bride for himself. He doesn't believe in getting married to absolute strangers - so he decides to try his luck with three of his gal pals from school days. Enter the three female leads - Sada, Charmi and Saloni. Sada plays Sravani, a goody-goody medical student who is at the mercy of her cruel uncle-aunt - a very cliched role, complete with a sick grandma, to whom she is ekdum devoted.

Charmi is a social activist, loud and opinionated while Saloni is Shalini Rao, the budding tennis star, all set to win Wimbledon and everything else. Which of these three babes capture our man's heart and win his hand forms the story. Nothing new, no great shakes. But good timepass.


Chukkallo Chandrudu Part I
Chukkallo Chandrudu Part 2
Posted by DesiGirl 9:04 PM 0 comments    


Sid's second movie was with his guru, Mani Ratnam. He played the role of Arjun, one of the three central characters in Ayudha Ezhuthu. The movie was made in Hindi with Abhishek Bachchan, Ajay Devgan and Vivek Oberoi (who played Arjun - a total waste!) as Yuva. The Tamil version was dubbed in Telugu as Yuva too.

Both my favourite songs from this movie star Sid and Trisha. The first one is the disco number, Yakkai Thiri.... Fanaa. Sid does some amazing moves - what energy, yaar! The next one is called 'Hey Goodbye Nanba' - I liked the picturisation of this. Shot in the beach, which is one of my fave spots in Chennai, it has Sid driving a motorbike and looking not too comfortable I think. Awww!
Posted by DesiGirl 9:50 PM 0 comments    
Ale Ale, from Siddharth's first movie, Boys. Cognescenti has it that when the writer Sujatha saw him on the sets of Mani Ratnam's Kannathil Muthamittal (which he assisted), the writer introduced Sid to director Shankar, who was then in the middle of casting for his next venture, Boys. The rest, as they say, is history.

Boys is, reportedly, one of his hated movies. It showed him he cannot act for toffee, according to good ole Sid. Well, click on the link to see Sid perform some gravity defying stunts, singing 'Ale Ale' and decide if it is as bad as the actor feels.

I like this song mainly cos of Karthik, the singer.
Posted by DesiGirl 7:08 PM 0 comments    
Now for two of my favourite songs from the movie Nuvvostanante Nennodantana. The first link will take you to a clip of the song Niluvadhamu Ninu Epudaina. This song is sung by Karthik, who IMHO is one of our best singer's today. He has a lovely voice, an excellent pronounciation (he doesn't chew the poor lyrics) and is well versed in Carnatic music.

The next one is Adire, Adire - well, if giant cows, couple of giraffes and a singing, dancing Sid and Trisha are your cup of tea, then this video fits the bill to a T. Enjoy!
Posted by DesiGirl 7:02 PM 0 comments    

For my very first post, I shall try and include the clips from a movie of one of my favourite actors - Siddarth. The movie is a telugu one called Nuvvostanante Nennoddantana or NVNV, for short. It is nothing special - a mish-mash of loads of desi movies like Maine Pyar Kiya and the like. But I like it cos it stars Sid the man. This movie made him famous in Telugu filmdom, brought him to the notice of Rakeysh Omprakash Mehra, which resulted in him playing Karan Singhania in Rang De Basanti.

Now, for the movie clips.

Nuvvostanante Nennoddantana Part 1
NVNV - Part 2
NVNV - Part 3
The final part

Big thank you to dragonlegs16
Posted by DesiGirl 6:26 PM 0 comments