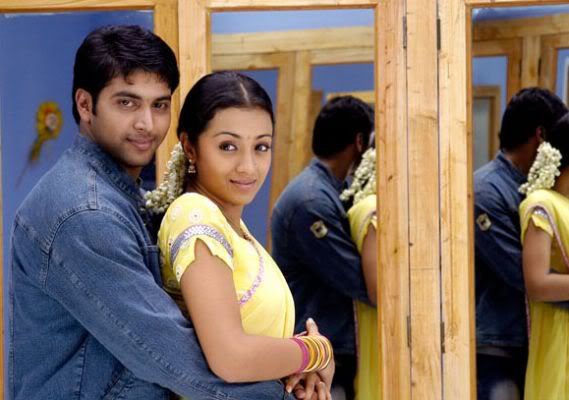 Remaking movies - in other words, lifting the success formula from one language and neatly transferring to another - guarantees instant moolah. Or so the belief goes. This, in my opinion, is the reasoning behind remaking a movie. This concept has been employed time and again to varying degrees of success. One of the most successful remake franchises was that of Munnabhai - its Tamil alter ego Vasoolraja and Telugu counterpart Shankar Dada went on to duplicate Sanju's antics and laughed all the way to the banks.

In the South, Vijay is one of the popular leading actors who employs this tactic regularly, to varying degrees of success. He buys the Tamil rights to a hit Telugu movie, makes it with self as the leading man and hey presto! another super, duper hit ready!! Gilli was one such hit that proved to be a great buy for him, while Vaseegara was a squid. Now, with the rights to Mahesh Babu's blockbuster Pokiri in his bag, Vijay can almost smell the success once again.

'Jeyam' Ravi is another who follows in the same footsteps. He, too, had good runs with his previous movies M Kumaran S/O Mahalakshmi and Mazhai, the remake of MS Raju's megahit Varsham. When news of Bommarillu hit Chennai, there was widespread frenzy amongst Vijay and 'Jeyam' Ravi, amongst others, to net the Tamil rights and sit back and watch the money come rolling in. But things didn't go their way, with Prakash Raju coming up trumps. But 'Jeyam' Ravi needn't go home with nothing - after all, he's starring in last year's Telugu hit Nuvvostanante Nennoddantana (NVNV), which cleared the table at this year's Filmfare Awards.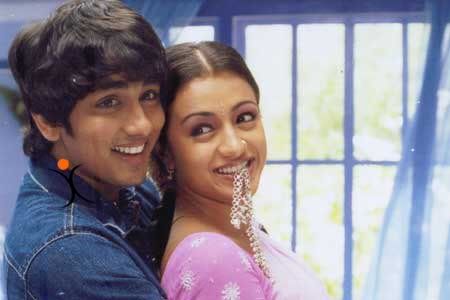 In Something, Something, NVNV's Tamil version, Ravi plays the role of rich NRI lad Santhosh, the same role that made Siddharth the poster boy of Hyderabad last year. Siddharth owned this role, revelled in it and made it completely his. He was hyperactive, bouncing off the walls, super-cool and full of pizazz. This so contrasted with his mature look in the second half, that it worked really well for him. He, in short, talked the talk and walked the walk and was Santhosh, the super-rich, London-born and bred chap. Ravi, well, didn't just cut the mustard. Everything about him was a let down.

For starters, he spoke with a marked Tamil accent - strike one against a London-born guy. In the scene where he counted the stars in the sky for Trisha, going '1... 2... 3...... 10', I split my sides, laughing. This Santhosh most certainly did not grow up in London! Every single act of his was an imitation of what Siddharth did in the Telugu version - there was nothing originally Ravi in the whole movie. His antics pained me so much that I had to walk out well before the climax.

Maybe it wasn't Ravi's fault - that is the cross all remake heroes have to bear. No matter what a brilliant performance he had managed to come up with, he still would have been compared to the original. Well, I'm loosely calling it original but there's nothing original about the storyline. It is Maine Pyar Kiya and a whole lot of other romantic stories mashed up and served with some fizz. But what it also is a frame by frame copy of NVNV.

One of the biggest drawbacks that Ravi's got is his voice - he just doesn't sound macho enough. There's this scene in Mazhai where he's supposed to stand up to the bad guys and make them quake in their boots. But in that mousey voice of his, all he managed to do was make me almost wet myself.

Another huge letdown was Bhagyaraj. While I have never been a fan of his, I wept for Prakash Raj as I saw Bhagyaraj take the role so brilliantly essayed by that great actor and bring it down to such a level. In the Telugu version, Prakash Raj is this silent, stoic businessman, who adores his son whilst suffering his wife's caustic tongue with some admirably repressed passion. In Something, Something Bhagyaraj, in his trademark verbose style manages to make you wonder how such a character managed to amass millions and earn such a major name for himself in England's capital town. When he tells his brother-in-law and the BIL's partner that whilst his wife may appear to be the boss during the day, come night he will take charge, how crass can you get? While Prakash Raj was this suave, sophisticated millionaire, Bhagyaraj comes across as this bumbling, uncouth man in ill-suited finery. The scene where he pontificates about the greatness of komiyam (cow's wee!) in his quest for water to quench his thirst has to rank in the top three as the most idiotic scenes in the whole film.

Though it was just an old story rehashed, NVNV managed to sustain the audience's interest due to its treatment and the casting. This is where the Tamil version fails. While Something, Something has successfully managed to remake the Telugu movie frame by frame, remaking the Best Actor award will not prove to be such an easy task!
Posted by DesiGirl 12:26 AM    
4 Comments:
8:55 PM

 

Desigirl: based on your review I took the plunge and bought the DVD of Nuvvostanante Nennoddantana...will watch it in 2-3 days hopefully!

Question: is the story a bit like Maine Pyar Kiya?

10:40 PM

 

It is everything like it - and more!!

11:13 PM

 

Yeah I saw NVNV, and posted a brief comment on it on one of your threads on www.naachgaana.com, but it got buried in no time at all.

Basically I didn't like the first half at all, and just when I was thinking I had wasted money buying the DVD, the second half was WAY better. Although that sort of "scene" has been seen in MPK and maybe other films, Prabhudeva's direction of the sequences of Siddharth living and working on Trisha's farm seemed fresh. And the depiction of farm life was itself more real, in terms of the sights/sounds/tasks/smells(?) than one mostly gets. This trope is an old one (Jacob had to serve Rachel's father in the Old Testament in order to "win" her) but it did not feel stale or jaded to me.

NVNV was only the second telugu movie I've seen (after OKKADU). Now I'm waiting for POKIRI, and, on your recommendation, might well go in for Bommarrillu too!!! Maybe Siddharth should give you a commission! :-)

10:23 PM

 

I'd rather he gave me an interview, Q!!