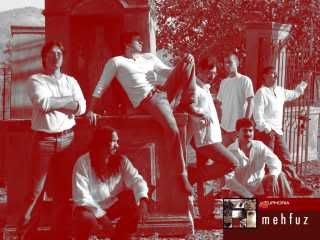 Let me come straight out and admit to being a hard core fan of Euphoria. I was smitten the day I listened to Maaeri, way back in year 2000. That song was the best song I had ever heard in my life till then. Even today, it still remains a firm favourite of mine.

For those who have come in late, Euphoria consist of DJ (bass), Benny (keyboard), Hitesh and Gaurav on guitars, Ashwani on drums, Rakesh and Prashanth on dholak and tabla and Palash, the singer-songwriter, the "brain" of the band.

Euphoria's music style is something uniquely desi. It is full-on fun, full of colour and somehow, something magical. Their latest offering, Mehfuz, is no different. The album contains twelve tracks and each one is a beaut.


The album opens with 'Soneya', a typical Euphoric number, reasonably pacey and with good mixing, followed by the title track 'Mehfuz', which is a slow, melodious number. Guitar chords start the song off beautifully, with Palash singing in his trademark style. Another great song Roshni, with lyrics by Gulzar, is a wonderful, ensemble number.

If Phir Dhoom brought in shades of Punjab, with Maaeri, Mehfuz has some Goan influence in 'Dil', with Benny penning some parts in Konkani. There's some heavy stuff with Sant Kabir and Raheem's dohas putting in an appearance in the appropriately titled 'Doha'.

The only song that didn't sit well with me is the English one 'She's Beautiful' - though the tune is good and the words are alrighty enough, Polly singing away in angrez is taking me some getting used to. I would rest happy when he belts out in good ole Hindi - not that you didn't do the song justice, Polly ole soul but when you sing in good ole Hindustani, it stirs me up!

Barring that, I could list the 11 remaining tracks and praise them to high heavens for the rest of the day (and night) - and still I would find myself bereft of words. Every one of them has a special something to it - all of them have a familiar feel to them, making you feel like you are among old friends again and Palash's voice rings out strong, song after song after song.

If, like me, you are far away home and are feeling home-sick, then slot this CD in your player, get your headphones out, relax with a cuppa chai and you will be transported to India. Kabhi aana Euphoria gully!
Posted by DesiGirl 11:24 PM    
1 Comment:
10:28 PM

 

Is this CD available online?