***SPOILER WARNING*** This post contains details of the plot so please be warned ***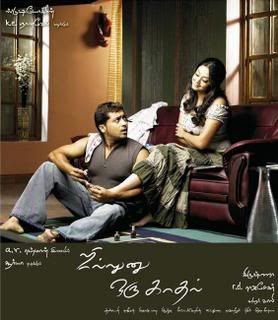 Long before the movie was released and the hype and the hoopla started, I was quite keen to watch it. Any movie that had a sublime song like 'New York Nagaram' must not be missed, I told myself. Well, you live and learn, don't ya?

What put me off about 'Sillunu Oru Kaadal', let me count the ways.

1. The title - if there ever was a misnomer, this was it. There was nothing 'sill' about this movie. It was not at all the jolly, happy-go-lucky you would expect, at least from its title. 'Damp squib' would have been a better fit.

2. Characterisation of Bhoomika - What did that poor girl do to you, Director Krishna? She was practically non-existent in the movie. Why did you make her into that wallpaper? The only time she came alive was in the vamp attire and attitude and then, boy, she smoked! Jo paled in comparison.

3. Dialogue - the way Aishu declares her love for Gautham will remain forever, on the top of the 'how not to declare your love to your sweetheart' list. I mean, ick! 'Nee mattum pakka vendiya odambe ellaraiyum pakka vechittiye?' Give me a break! I am too pissed to even translate that!


4. Aishu's dad - this man is portrayed as the villain in the life of Aishu and Gautham, the high powerful man, splitting his daughter and her newly married husband seconds after they tie the knot. He not only beats his son-in-law senseless, he manages to transplant his daughter to another corner of the world. When did that man become the snivelling, bumbling fool he was shown as in the second half? Did his daughter's anger melt him into such a puddle? Why didn't she turn this anger on him so he didn't split her and Gautham up, in the first place?

5. Picturisation of songs - if this is the best we can do with ARR's songs, then it is no wonder the man is not too keen on making music for Tamil movies any more. What is the big idea in shooting a song entitled 'New York Nagaram', in Lucerne, pray tell me?

6. Narrative - at no point did the story settle into a smooth narrative. It sort of lurched along in fits and starts.

7. The title song - Tanvi singing the song in that dreadful affected tone put me off big-time. Unless you do not know Tamil, it is bound to get on your nerves - it grated mine.

8. The diaryWhy is Gautham's diary written like a third-person narrative? Wouldn't you write the diary for yourself and not for some audience?

9. The validity of Gautham's marriage to Kundavi, in light of his outing with Aishu.

The story, such as it is, is this: Kundavi (Jo's character) is a typical village belle, who's got this big dream of falling in love with a tall, dark, handsome man and marrying him. Of course, things do not go that way and she ends up marrying Gautham (Surya),as ordained by her family. She thinks this is the end of her life. But when we meet them five years later, life is not over for Kundavi but has just taken a lovely turn. She has blossomed into this bindaas Mumbai girl, with a cool job in advertising, a lovely 5 year old daughter Aishu (how trite can you get?) and mechanic hubby Gautham who loves her to bits. 'I am the happiest man in the Vorld' shouts he from the rooftops. That seems to be the cue for the twist in the tale.


One day, whilst rooting in the loft for something for her child's school project, Kundavi comes across Gautham's diary and she learns about his rowdy past and his girlfriend, Aishu (there was no reaction to that - disappointing!) and his *gasp* marriage to her, which is rudely interrupted moments after the knot is tied by the arrival of her political big-wig dad who hauls her home while his goons beat Gautham to a bloody pulp. When he vows to go after Aishu, his guardian-uncle takes a toss from the stairs (ho hum) and makes Gautham swear that he would marry Kundavi, moments before giving up his own ghost. But what sticks in Kundavi's mind is Gautham's statement that he never even got to live a day with his beloved Aishu.

Of course, the bottom falls out of Kundavi's world and because she loves her husband to bits, she decides to make things alright by hunting down Aishu and giving her and Gautham a day so they can get it out of their system.

Ye Gods!

Whilst the concept might have started off as something original, the treatment of it leaves much to be desired. The movie fails on many levels. While cashing in on the Jo-Surya romance and timing the release so it was just before their wedding is good marketing, not delivering the package is a big let-down. The only reason the movie is limping along is due to the fascination of their fans with their real-life romance and they just want to catch a bit of it.

Big, fat, disappointment. Best avoid this if you are not die-hard Surya-Jo fans.
Posted by DesiGirl 8:48 PM    
2 Comments:
9:16 AM

 

Your reviews are excellent/ awesome.
When are you joining the ilk of M/S
Siddharth , Siva Kumar , Shekhar Kammula , Bhaskar?

DesiGirl said...

10:39 PM

 

thank you, thank you! Sorry for responding to your comments so late.

As for me joining the ranks of Sid, Sivakumar, Shekar Kammula etc, I prefer to write - so maybe I could write the story, Kammula could direct and Sid could act? That would be the ideal combo!!!