Gautham Menon is one of the hottest directors in Tamil cinema today. His first movie in Tamil was the Madhavan-Abbas-Reema Sen starrer, Minnale. He became famous when his 'Kaaka Kaaka', starring Surya and Jyothika became a super-duper hit. He recently made Vettaiyadu Vilaiyadu, with Kamal Haasan and Jyothika. Shooting for his fourth project, Pachaikili Muthu Charam, with Sarath Kumar and Jyothika is going on at full steam as the movie is set for a Christmas Day release. It is at this time that I got a chance to chat with one of his assistants for the movie, Meghana Karthik.

Q: How did you end up where you are, as an assistant director?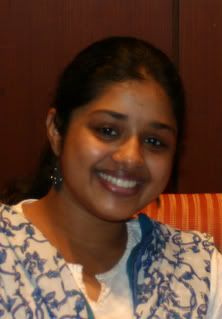 Meghana: Well, this is something I've always wanted to do – films, I mean and I've always had this love for Tamil cinema. So I put down options which were films, ad films and photography. And right now I seem to be doing two of them - films and photography.

Q: How did you meet Gautham Menon?

Meghana: I have a friend who is a music director and one day I asked him if he could speak to Gautham for me. He did, it worked and here I am!

Q: What exactly does being an assistant director entail?

Meghana: Being an Assistant director involves diff kinds of work. It could be anything from taking out scene print outs, to scheduling the shoot as per location, telephoning the production dept on which dates which artist is required to calling for the props and informing what costumes are required for the next day. When I started, I didn't really get involved with the script, so I've been in charge of taking care of the continuity.

Q: Never a dull moment then! How do u take care of continuity? Do you take pictures to help you - like photograph the set, and the people at a certain time so you can come back to it later and make sure it is the same way?

Meghana: Yes. We have a photographer who is full time on sets. He takes all the photos and we ask him for specific continuity snaps, for example, a close up of this particular shot for the "scar continuity". Apart from that I have to maintain what's called an editing report, in which I write down who's wearing what costume in which scene.

Q: Sounds pretty intense - and involved!

Meghana: It is. The most important thing is that your eyes and ears should always be open. Meaning, you should be highly observant and equipped with whatever is required as you wont know when the director will ask you for what.

Q: Siddharth, when speaking about his days as an assistant to Mani Ratnam, once said that when you are an assistant director, you are at the beck and call of everyone - is that true?

Meghana: Yes, you can say that. From scheduling the shoot, to coming early to the spot and getting the costumes ready for the day, to making sure the artists are ready and to call them before the shoot - all of these are part of an assistant director's job profile!

Q: Definitely not a 9-5 job then!

Meghana: No way! After shoot is over, we go to the office and take print outs and organize things for the next day. Since it involves a lot of background work, our unit has around 6 assistants. We split the work equally and some days I get loads of work and some days less – it all depends on the workload of the day. But we all get along fine and have our roles sorted between us, to make the whole thing work like clockwork.

Q: So tell me something about this movie you are working on.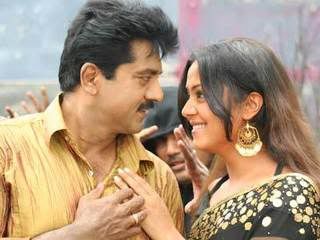 Meghana: The movie is called Pachaikilli Muthu Charam and has Sarath Kumar and Jyothika in the lead. Top model Milind Soman does a role that has negative shades to it . The film also has Andrea. It's a family based story, which has an interesting twist in it (smiles) - so watch out for that one!

Q: I thought Jyothika has quit movies post her wedding to Surya?

Meghana: Yes, that's true. The shooting for her part was completed a while ago

Q: And Andrea, is that the singer?

Meghana: Yep! Andrea the singer, model, theatre personality and now, actress!

Q: Tell me something about your background - school, college?

Meghana: Like I told you, I have always been interested in movies. With a view to getting into that as a career, I chose Visual Communications at Bachelor's level. Then, I did my Masters in Television and Video Production at Xaviers Institute of Communication, Mumbai. Once I completed that, I came back to Chennai to pursue my dream of getting into films. And as luck would have it, about three weeks after I came back, I got a job with Gautham sir!

Q: What did your parents feel about your career choice - working in the big bad world of movies?

Meghana: I basically come from a media background, so it was not very difficult to convince them. My dad's a photographer and he produced ad films in the late 80's and early 90's, so its nothing new to my family. The most important thing is that I had always said I wanted to do either films or photography. So it was just easy when I got into Visual Communication, did well and right after that I went to Mumbai for my masters and soon after that, landed here!

Q: You said you have always liked Tamil movies – do you have a favourite?

Meghana: Oh, now that's a difficult one! There are so many, I really can't choose one. I really like movies by KB, Mani Ratnam, Kamal Hassan and of course, Gautham sir! I don't think I have an absolute favourite one as such. I watch so many movies that it is impossible to name a few, much less one!

Q: That is important, isn't it - to watch different types of movies, made by different directors, so you can learn from them all?

Meghana: Absolutely!

Q: Do you have a favourite actor?

Meghana: No!

Q: So who would be your ideal hero to cast as lead in your own movie?

Meghana: Depends on my script and I haven't thought of one so far. I would love to work with Surya, Dhanush, Madhavan, Siddharth and Rahul Bose.

Q: Not every assistant director ends up as a successful director - what do you think would you have to do to make sure you don't become part of the statistic?

Meghana: Well, cinema in general has this belief that people who make it big in "commercial films" are successful directors. In fact, there are so many other directors who make good art films and are brilliant at what they do. But they still do not get the recognition a commercial director gets, simply because the reach is not enough. It is true that people follow the commercial films. I feel that somewhere down the line they get lost because they might cast a small hero. The heroine would be dressed in skimpy outfits and won't know how to act and the story would be a clichéd love story - girl meets boy, they fall in love but separate and…

Q: Now you have just described most of our movies! Fair girl, skimpy clothes, running around trees - add anorexic to it and you have some of our so called 'numero uno' heroines!

Meghana: (smiles) Well! To answer your question, I want to make films, yes – good ones. Don't know if it is going to be a commercial one or an art film. Whether I am being recognized as a big director or not, I want to make films which inspire me.

Q: Good answer! Okay this is one of my pet peeves - going abroad for a song and shooting it in exotic locales - why can't the same song be shot just as brilliantly in our own country? We have got great beaches, backwaters, mountains, lakes, waterfalls why do the moviemakers still prefer foreign to local?

Meghana: Hmm. One could be publicity - "oh this Surya-Jyothika song is shot in New York and its awesome". But if you cast your mind back a bit, you might remember the old days when they used to erect these ugly sets spending quite a few lakhs and shoot a song that wasn't too visually appealing. I reckon at some point in time they figured out going abroad with a smaller crew for a week and shooting a song worked out cheaper.

Q: Is that the only choice - shoot a song in Majorca or set a plug-ugly set in Chennai and make a mess of it? Why can't we go to, say, Kuttralam and shoot a song?

Meghana: If it were me, I would try my best to shoot within India. Unless, of course, my script "demands" a foreign location! But, I agree with you - there are beautiful places in India and there is no reason why we cannot shoot here!

Q: I have to say, you are very diplomatic!

Meghana: No just being honest about the way feel about certain things!

Q: Ok, last question - what, in your opinion, is a film maker's job / duty?

Meghana: Well, that's easy! A filmmaker should make people feel they're part of the action when they're watching the film. Let the audience live vicariously for a bit!

Q: Well said! Anyway, thank you for taking time out to talking to me. I shall look forward to seeing Pachaikili Muthu Charam - as well as your own one in the future!

Meghana: Thank you!
Posted by DesiGirl 11:25 AM    
23 Comments:
8:56 PM

 

Whoa! Good job desigirl! Especially as there is a HUGE dearth of women "behind the camera" in the film industry...

10:22 AM

 

its sound great....this is john...i am an engineering and a management student... i am also very much interested in joining the film industry....i wanted to get in touch with Mr. Goutham Menon, but i tried by best i was not able to get in touch with him. can you pleas help me to get in touch with him. i want to work as an assistant director to Mr. Goutham Menon. my contact mail address is

soleil.radiant@gmail.com

pleas help....

regards

4:52 PM

 

hi iam venkatesh , finished my Be (EEE) in college of engineering ,guindy.. iam interested in joining the film industry as a assistant director..how can i approach u or gautham sir..
venky1893@gmail.com
please do reply
thanking you

7:40 AM

 

hai! I am manjunatha.finished my Diplamo & working in private engineering college,(Bangalore) am very much intrested in film industry especially in telugu & tamil since last 10 years, so pls giv me an opportunity work along with classical director in any department like even lightboy,asisst....

Thanking you,
yours faithfully,
m.manjunath469@gmail.com
9620445386

10:30 AM

 

hi megahna.. this mohanraj from kottivakkam, am eagerly join as asstiatint director to goutham sir..
may i know how to join with him and intract with him.. pls contact me 9677192197 and my email address mohan6jerry@gmail.com

12:06 PM

 

hi mam hw r u.........

y not working in neethane enn ponvasantham ah. replay must.
7hills.aasro@gmail.com

12:11 PM

 

hi mam hw r u.........

y not working in neethane enn ponvasantham ah. replay must.
7hills.aasro@gmail.com

12:12 PM

 

hi mam hw r u.........

y not working in neethane enn ponvasantham ah. replay must.
7hills.aasro@gmail.com

12:13 PM

 

hi mam hw r u.........

y not working in neethane enn ponvasantham ah. replay must.
7hills.aasro@gmail.com

7:21 PM

 

hi mam , this is hari from chennai , am very much interest to join an asst director , am not degree holder or something , but i used to updating cine fields news and watching movies, if u need any asst kindly ping me mam mcharry08@gmail.com

12:29 PM

 

Hi i am priyesh today i participate script writing cometition in ethiraj colleage and i saw a gautam menon the great director of tamil film industry.His speech was really good and i like to work with him and now currently doing film making in aat institute.If there is any job to work with him as a assistant please contact me.My mobile numbes is 7708042284 and my email id is priyeshthedirect1312@gmail.com

12:30 PM

 

Hi i am priyesh today i participate script writing cometition in ethiraj colleage and i saw a gautam menon the great director of tamil film industry.His speech was really good and i like to work with him and now currently doing film making in aat institute.If there is any job to work with him as a assistant please contact me.My mobile numbes is 7708042284 and my email id is priyeshthedirect1312@gmail.com

9:16 PM

 

Hi... I am Bhantprasad am intrest the film mekar, am join as goutham sir, u know am good story writer , i hav one story, in frist love pls contact 7893596959, and my email id indarapubhanuprasad@gmail.com pls contact,. ',.

12:47 PM

 

hi, am shivaram from pondicherry. i like cinema very much. pls give one chance for me. pls give one movie to act with u. contact no:7708880759

12:50 PM

 

sir unga padathula nadikunum asaiya eruku sir pls give one chance sir.nalla nadippu varum sir enaku.pls contact me sir 7708880759

6:21 AM

 

Hi , i saw the NEP movie its very excelent,i need one more help ,in that film samantha in birthday white dress is very super,i need the same model in my wife,can u pls tel where i buy the white dress
please replame

5:38 AM

 

Hi, am kannan my native pudukkottai enaku assistandirector aaganumnu aasai athuvum goutham sir kitta work pannanumnu aasai I'm finished my diploma and search for Work plz u recoment me any contact (kannan2492@gmail.com)

3:18 PM

 

hi mam...i like gautam menon so much..i inspired his movies..its awesome..pls tell to director...that make a beautiful love story movie in telugu as "ye maya chesave"..pls convey dis msg...

7:29 PM

 

hai mam iam satheesh for sowtheesh iam an intrested in tamil film industry acting chances mam pls we can help me my mobile no 9500280708 & mail id; sowtheesh@gmail.com
pls i wand uy mail id
i send my photos just seeing my photos u impresed
just seeing pls
i need ur mail id pls pls pls pls pls pls
yes we can
yes we can

4:30 PM

 

Meghana Karthik- I am also a student of GVM... My godfather.

3:07 PM

 

I love gawtham sir..... I when assistant for gawtham menon

3:08 PM

 

I"m finished M.sc sir.....

5:59 PM

 

looking for gud guru and also to learn and to estabilish my skills in tamil cinema so pls take my request and concern waiting for changes in my life